In 1996, an understated clearing of the throat not only kicked off the debut album by the then-twenty something Paul Hayden Desser, but announced the arrival of a unique talent and voice. With subtlety, simplicity, depth and a haunting quality that is no less affecting 20 years later, Everything I Long For is a classic record.

The upcoming 20th Anniversary Celebration of Everything I Long For is a unique opportunity to revisit the album's songs with Hayden – many of which he stopped performing in the wake of the album's release.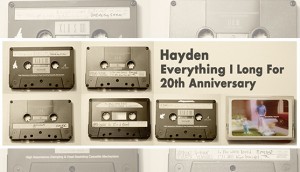 With a 4-track he borrowed from a friend and a perch in his parents' Thornhill basement, Desser recorded much of the album, often within hours of writing the material. As Exclaim!'s 9/10 review of the reissued album put it: "There was and is a certain joy you can harness when you first discover that you can make records for and by yourself, and the machines — the four-tracks and other portable studios — are very much part of the aesthetic here."

Indeed, in addition to being inspired by the "standards" – Leonard Cohen, Tom Waits, Joni Mitchell – Desser told Shad on q, that the "raw and original" music he'd heard from artists like Eric's Trip, Sebadoh, Dinosaur Jr. and others, who were "making stuff at home for fun." Hearing their music, he said, lead to the realization that "Hey, I can do that too."


He did, and the resulting album became the foundation upon which his career was built. Record labels eager to sign the then-25-year-old undertook "an absolute frenzy of competitive bidding," The New York Times wrote, quoting an industry source that called the deal, with Outpost, "as favorable a contract" they'd ever seen for a new artist.

While that deal may certainly have turned a lot of heads, Desser's career – eight full-length recordings and a devoted international following – proves that EILF was just the beginning. Hayden's own belief in that first album, as he told The New York Times twenty years ago, says more than any of the (large amount) critical praise:

"I've done my album honestly and I'm proud of it."

Since 2014, Massey Hall has been honoured to present the annual Dream Serenade benefit concert. Organized by Desser and his wife Christie Greyerbiehl, the event gathers a mix of musicians for unique performances to benefit special-needs children and their families. Past editions have featured the National, Feist, Serena Ryder, Bahamas, Billy Talent, Joel Plaskett, Barenaked Ladies and more. Plans for the third annual event, to be held again in the fall, are under way and announcements are forthcoming. More info is available at dreamserenade.ca.